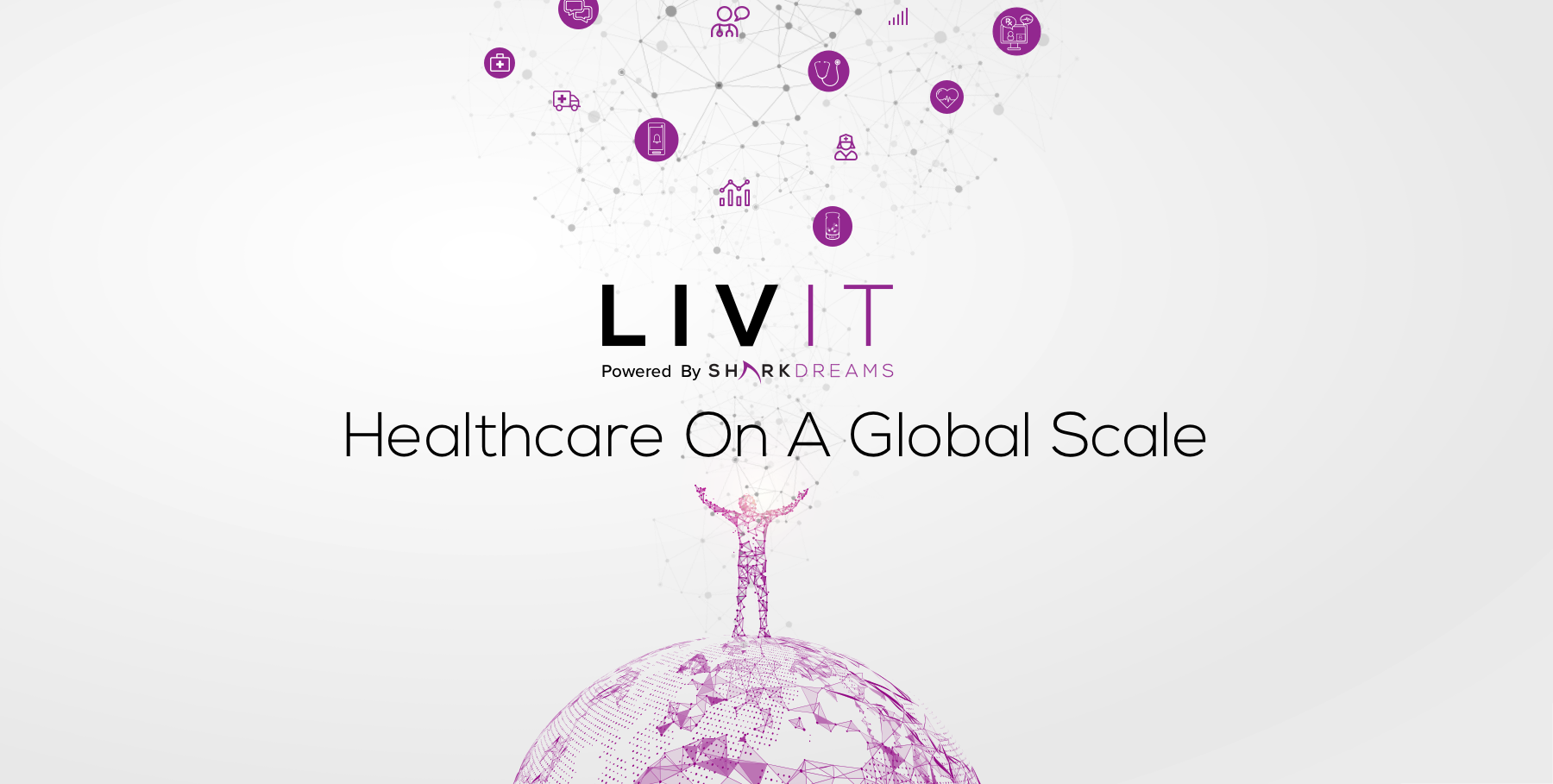 As we travel to countries around the world, we've implemented LIVIT on a universal scale—showcasing our global establishment in the mass market and drawing the attention of tech giants, like Microsoft, to collaborate under the umbrella of our ecosystem.
The LIVIT ecosystem, with its affordable hardware lineup, dedicated application, and powerful and secure cloud infrastructure, connects healthcare together—hospital, pharmacy, ambulatory, nursing, laboratory. To name a few. LIVIT is a complete end-to-end healthcare experience that we can bring directly to patients anywhere.
Built on the principles of connected healthcare, focused engagement, and proactive, on-demand care, LIVIT has taken on a life of its own—tackling problems from all ends; patient, provider, and others along the healthcare spectrum. LIVIT's connected health care is important for creating a seamless patient care experience. The focused engagement provides custom UI to businesses with demography specific applications. These factors bring visibility to end-to-end patient care and enable proactive care—such as dispensing ambulatory services before an event occurs. This on-demand care means having access to health care at all times.
Each location we've visited over the last year gave us greater insight into what LIVIT means for different people and industry sectors in different parts of the world. But regardless of the country we were in, LIVIT was received with appreciation and recognition for its all-encompassing ecosystem and the complete care experience it provides.
San Francisco, CA, USA
Our presence in San Francisco, CA, USA in July gave us the opportunity to demonstrate how LIVIT identified a market need and achieved a cutting-edge solution. As we talked with people, we recognized the knowledge-deficit that exists around healthcare technologies and felt duty-driven to educate. The beauty of LIVIT is in the simplicity of its implementation, and we received appreciation for the seamless connection of our devices and the outstanding care we are bringing to patients.
I used to not pay attention to technologies like this. But after my mother moved in, keeping track of her and her medications while balancing my kids' lives and my own is hectic. If this device can help me organize one aspect of my life and do it in such an efficient way, I'm all for it.
Singapore
Our efforts to empower patients and providers alike continued in the city-state of Singapore in August. Here, LIVIT's showcasing was acknowledged for its affordable innovation and specialized focus.
The LIVIT ecosystem revolves around crafting solutions that target the nucleus from which all problems stem. Since medications lie at the heart of most treatments, we concentrate on fashioning technologies that speak to these drugs and their associated treatment plans. We implement everything from smart devices designed to attach to pill bottles at the pharmacy; to the user-friendly interface of our medication monitoring app and its Caregiver Portal counterpart; to the inclusion of our non-invasive vitals monitoring patch. Our strategic lineup of LIVIT devices achieved global recognition for their form factors and the painless adaption by any patient, for any focused disease condition.
With hospital readmission rates as high as 10.5% in the U.S. and 7.7% in non-U.S. countries, it is necessary to build robust solutions capable of accommodating diverse circumstances. No two patients—or scenarios—are the same. If patients are given more options at home—options like LIVIT that can be customized and integrated into their everyday lives—then hospital readmission becomes less of a concern. This kind of forethought and tailored blueprinting is what has identified LIVIT as a ubiquitous force for individualized healthcare.
Every rung in the ladder of LIVIT's DNA is customized to capture the complete lifecycle of a medication's activity and the outcomes of procedures with trackable history and auto-computed, predictive analysis. The unique data produced empowers our patient-centered approach with supported intelligent user interfaces—leading to better adaption rates. In the market of highly depreciable electronics, building disposable, recyclable devices with the required accurate data was important to make the technology available for the mass market. This efficient combination of technology and implementation provides the meticulous tracking necessary for improving patient care outcomes.
As a healthcare provider, making sure patients are keeping up their end of the deal is very difficult for us, especially when medication is such a key part of their treatment. Patient monitoring systems could save us so much on waste; I'm surprised it isn't a larger industry. LIVIT looks like something which I would love to have implemented in our industry as a standard.
The skin patch would relieve so many of the concerns I have. I constantly worry about how the health of my child will be if I plan to have one in the future. Although I know I will have check-ups often, having this technology to calm any of my worries which may come up would make the whole pregnancy process so much less stressful.
Melbourne, Australia
October led SharkDreams to Melbourne, Australia and Bangalore, India to continue LIVIT's global showcase. These two regions, while relatively close in geography, vary greatly in healthcare standards and execution. In Melbourne, we offered the integration of LIVIT to assist in the collection and curation of data as an aid to the renowned system's limitations.
The Australian healthcare system is recognized among the best in the Organization for Economic Cooperation and Development (OECD), but it relies primarily on public reporting of health services and patient-reported outcomes. This structure leads to the collection of inaccurate and incomplete data. By folding LIVIT into their framework, Australia's healthcare would improve its efficiency, decrease its annual spending, and improve the quality of life of Australia's inhabitants.
In Melbourne, the affordable nature of LIVIT sparked interest because cost is a major factor when people consider medical intervention. With 1,300 hospitals available (700 public; 600 private), and 406,000 visits to primary care physicians occurring each day, individuals in Australia are spending upwards of $7,100 on healthcare every year. In 2016 and 2017, 4.1% (663 thousand) of people over the age of 15 declined or delayed seeing a primary care physician at least once when necessary; another 7.3% (974 million) avoided or delayed filling a prescribed medication due to the cost. When a platform such as LIVIT is integrated into a healthcare system, the amount of money lost to system inefficiencies is reduced significantly, so patients can receive the medical assistance they need without having to worry as much about unnecessary financial burdens.
Bangalore, India
Our experience in Bangalore, India in October took on a much different feel than that of Melbourne. In Bangalore, we were the sole digital healthcare partner for IOT India Congress 2018, the 3rd edition of India's largest Platform of Platforms for the Internet of Things. This year's partnership with Exhibitions India Group incorporated a focus on healthcare and technologies that have the potential to transform business and India's healthcare system. This focus was urged on by grassroots organizations, hospitals, and the government alike to give these stakeholder domains the opportunity to join together in a conversation for change. Here, LIVIT was acknowledged for the uniqueness of its ecosystem and its ability to encompass all healthcare stakeholders under one formula.
Finally, someone sees that it all has to be connected. It's not just compliance. It's not just vitals. It's about the communication between devices and between the people involved in the process.
Love the idea. I'm a cancer survivor, so I know how important awareness is, but a lot of people don't. People are uneducated. This system could help people be more aware when problems strike or relapse.
I think this has to be done. All these wearables—I don't see where the data is going. But when we are monitoring our own health, the data makes more sense and means more to us.
Devices like this are usually only available to the upper-middle class. Especially in places without universal healthcare. It's amazing that this technology is available to anyone who needs it, regardless of income.
Düsseldorf, Germany
By November, when we visited Düsseldorf, Germany, the LIVIT stratagem incorporated more important devices into its nexus. Our fleshed-out ecosystem garnered due attention from high-profile organizations, and SharkDreams' publicity spiked with the partnerships we inspired.
Düsseldorf also highlighted that LIVIT's distinctiveness lies not only in the powerful features of its devices but also in the modern, sleek designs of its ecosystem. We allowed attendees of MEDICA 2018 to experience our LIVIT mobile app firsthand, and this small glimpse into what LIVIT is capable of incited renown.
LIVIT is years ahead of the established competitors in the market.
It's nice to see someone coming out with an integrated system. All these things stand alone. Having all my health devices connect makes it easier to keep track and see patterns.
Munich, Germany
Our latest trip to Germany—this time in Munich—induced a similar enthusiasm among those with whom we interacted. Recognized as a global presence and leading industry IOT ecosystem, LIVIT had people asking: What's next? We are proud of our global proliferation, and as we enter into 2019, we look forward to our upcoming collaborations, releases, and appearances worldwide. And with LIVIT's augmentation into a many-armed solution capable of absorbing technologies from third-party companies, we challenge others to develop devices worthy of plugging-in to our specialization in this niche market.
Though 2018 brought about a number of new opportunities, we are excited for our next steps as a company and the big changes we have in store. Our next appearance in Berlin, Germany in April will be a groundbreaking showcase in partnership with Microsoft that you won't want to miss, and this is only one of many events we have lined up for the coming year.
__
Dixit, S. K., & Sambasivan M. (2018). A review of the Australian healthcare system: A policy perspective. SAGE Open Medicine, 6, 2050312118769211. http://doi.org/10.1177/2050312118769211
Essue, B., Usherwood, T., Laba, T., Leeder, S., Yusuf, F., Gillespie, J., Perkovic, V., Wilson, A. & Stephen Jan. (2014). Out-of-pocket costs of health care in Australia: Submission to the Standing Committee on Community.
Kociol RD et al. International variation in and factors associated with hospital readmission after myocardial infarction. JAMA 2012 Jan 4; 307:66.